〈Open every day of the year〉
700 spots for car/18 spots for bus
TIME

Parking Lot

Fee
30min
30min〜4hours
5
6
7
8〜12hours
13
14
【NO.1〜NO.2】
Parking lot

Free

200yen
300yen
400yen
500yen
600yen
700yen
800yen
【NO.3〜NO.5】
Parking lot

Fr

ee

200yen
300yen
400yen
500yen
600yen
700yen
800yen
Bus
Parking lot

Free

600yen
900yen
1,200yen
1,500yen
1,800yen
2,100yen
2,400yen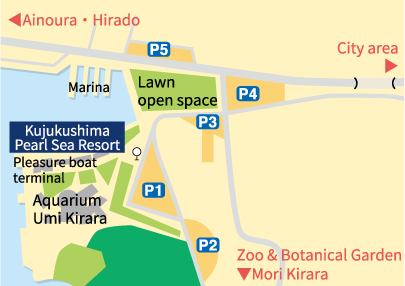 Night parking fee is half price.(from 8:00pm to 8:00am)
No other discount for parking lot.
Bus parking lots are locked according to the business hours of the facilities.
With regard to the use of bus parking lots, priority should be given to the customers who use the facilities.
Please consult in advance when only using the parking lot.
The parking expenses incurred by the guests will be used in the maintenance and management of the scenic spots, the preparation of facilities, and the preservation of the environment of Kujukushima, etc.